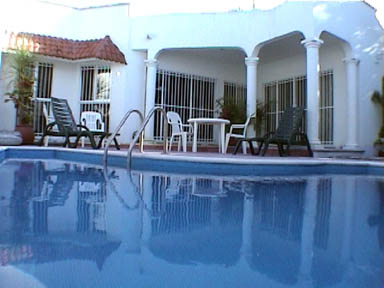 Casa Carlita
Cozumel, Mexico
Casa Carlita is the premier two bedroom vacation home in the sought-after Corpus Christi area of Cozumel. This villa stands out as a wonderful place to spend a tropical vacation. Close to everything, yet very private, Casa Carlita will give you the opportunity to spend quality time with family or friends and easy access to all that Cozumel has to offer. Casa Carlita is a romantic retreat for honeymooners.
Cozumel is best known as a destination for scuba divers, yet it has grown to embrace the interests of all travelers. Watersports abound on an island that has almost continuous beaches. We will give you tips on great places to hang out with the crowds or tell you how to find a place where you can have a romantic picnic with little chance of being interrupted. Snorkeling, Cave Diving, Deep Sea Fishing, Jungle Biking, Parasailing, Jet Skis, Horseback Riding, Lobster Cruises, Swim with the Dolphins, Jungle Tours, Mayan Ruins, Birding, Windsurfing, Eco Tours, Surfing, they all await you in Cozumel.
Casa Carlita has two private bedrooms, each with its own bath. The modern fully equipped kitchen opens to a spacious living room and dining room. Guests will enjoy the comforts of home, including cable TV, VCR, stereo and free local calls, in a tropical paradise for a very reasonable price. Maid service, free bottled water, central air conditioning and ceiling fans throughout also assure a comfortable stay at Casa Carlita.
Outside, the front courtyard is surrounded by a high wall that offers guests the luxury of totally private use of the tempting swimming pool or a marvelous place for a secluded siesta. Guests may enjoy meals in this courtyard, sunbathe on its marble patio or savor the shade of its covered deck. The smaller back patio offers a place for divers to rinse and store their gear in the shade of coconut palms.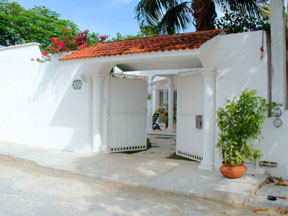 Private and secure, Casa Carlita is only two blocks from the waterfront and from the newest and largest grocery store on the island. There is also easy access to all of the shops and restaurants in San Miguel.
Casa Carlita is managed and cared for by our professional staff in Cozumel. They meet you at the airport to assist with ground transportation and again at Casa Carlita to orient you to the property. Our staff is on 24-hour call to you during your stay.
---
A perfect location.
Ideally located on Ave. 5 Bis between Calles 17 and 19 in the Corpus Cristi area of Cozumel, Mexico. Casa Carlita is a smoke free property. Two blocks from the waterfront and two blocks from the largest supermarket on the island, this vacation home rental is within easy walking distance to the Plaza, shopping, restaurants and a pier to catch your dive boat.
---
RATES
High Season 1/06 through 4/30 weekly rate $950 + tax - Low Season 5/1 through 12/09 weekly rate $805.00 + tax (currently 12%) Holiday (approx. 12/10-01/02) $1450.00 (E-mail us for holiday rates) (Family rate available for additional children) Our professional reservation agent in the USA takes care of all of the details when reserving your stay at Casa Carlita.


---
"A FEW REPORTS FROM OUR GUESTS"
The Case Family wrote:
We had a wonderful time, probably the best vacation we have ever had. Your house is perfect! We could have stayed three months. The grounds are so well kept and everything was spotlessly clean. The town of San Migel was fabulous, the kids went downtown often, alone and I felt perfectly safe. The convenience of Cheduari (grocery store) to your home was perfect as well. We ate out four nights and cooked in twice, as well as breakfast each morning. Your kitchen was very well equipped and having this available certainly cut our costs. I would highly recommend this vacation to anyone!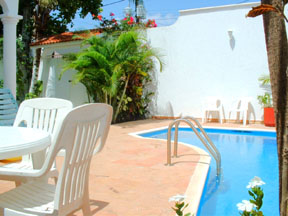 The Lyall Family wrote:
Thank you so much for allowing us to rent your beautiful home. It was thoroughly delightful. So comfortable, tastefully decorated and the maid was so sweet and went out of her way to make things beautiful for us. She attended to every detail, was respectful of our privacy and scrubbed the windows till they sparkled. She was wonderful. The week was absolutely perfect. Casa Carlita was a pure delight; all three of us loved it. We would have loved to have stayed another month.
The Haydens wrote:
We would like to thank you very much for renting out your house to us for our honeymoon. I don't know where to start this e-mail because there were so many wonderful things that we did in Cozumel. The agency that takes care of your home is a top-notch service. They helped us in so many ways. The maid, what a sweet lady, she spent so much time cleaning for us. Once again, both of us would like to give the biggest thank you for everything. If you are ever in the mood to sell Casa Carlita, call us first.
The Glisch Family wrote:
We wanted to take a minute and let you know that we had a wonderful time at Casa Carlita. This was the first time that we had taken an internet vacation (airfare/house booked via the web) and we were a little apprehensive. Our flight was perfect and our accomodations at Casa Carlita were fantastic. The home and its furnishings were better than we could have imagined. The layout of Casa Carlita allowed us to enjoy the vacation as much as our children did. The maid did a fantastic job of cleaning every day and left us with nothing to do but to enjoy Cozumel.
---
DO THE MATH SEE THE VALUE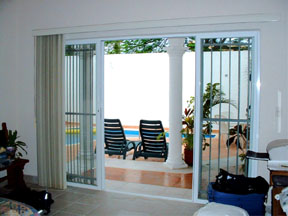 As you plan your Cozumel vacation, consider whether you prefer a small hotel room or the amenities of a private vacation home. Do you want to share a swimming pool with scores of strangers or with just a few of your friends? Would you like the option and/or the savings of being able to prepare some of your own meals? Would you enjoy being a part of true Mexican culture or prefer being just another tourist?

Divide the cost of Casa Carlita by the number in your party and then add the cost of air. Compare this number against an air/hotel package and decide which is the greater value.

THE VALUE GROWS

Guests of

Casa Carlita now also have free Internet access. Casa Carlita is now equipped with a broadband connection accessed through any laptop computer with an ethernet port.

Please Check With Us For Availability

Although we have given several reputable travel agents the authority to reserve Casa Carlita for our guests, please be aware that there is an ever-increasing number of Internet sites that claim to be able to rent Casa Carlita. Often these sites have incorrect or even misleading information about the availability of rental properties. Please check with us (through the e-mail link below) for the availability of Casa Carlita.


For more information about Casa Carlita and Cozumel email us at casacarlita@hotmail.com

We hope to hear from you. Craig and Carla Hanson Olympia Washington-Owners of Casa Carlita

More pictures of Casa Carlita